After months in the works (and trust us, it was tough to keep this under wraps) our OM Brazilian Rosewood Guitar review featured in Acoustic Guitar Magazine has finally hit mailboxes and newsstands this week!
"With its powerful and immediate voice, deep resonance, and protracted sustain, Thompson's OM Brazilian model is the sort of magical guitar that one seldom encounters, especially in a newly built instrument. Patterned after an original 1930s-era orchestra model, it's made from that most venerated combination of tonewoods: a soundboard of Adirondack spruce paired with Brazilian rosewood back and sides. The result is a note-perfect recreation of a golden-era flattop." – Acoustic Guitar Magazine
The relatively slimmer body depth gives the OM a delightful string to string and bass to treble balance these models are renowned for. The longer OM 25.4" scale length also lends a little more punch and volume, making the OM perfect for players that both flat pick and finger pick. Our OM models are available with a wide array of features and custom options. Learn More About the OM
All us us at Preston Thompson Guitars are thrilled that the review in the March, 2015 issue of Acoustic Guitar Magazine was so positive on the OM 'Shipwreck' Brazilian Rosewood.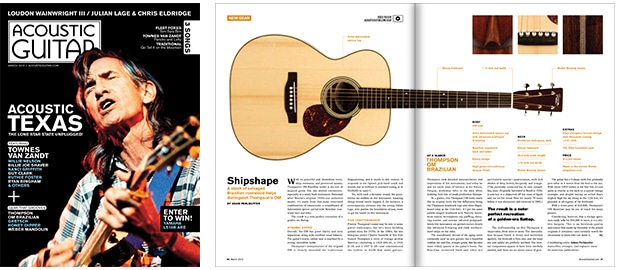 Interested in the story behind the "Shipwreck" Brazilian Rosewood? Read the Shipwreck Story
---
You might also like