Recently our custom shop built several 'luxury guitars' to share with guitar players and collectors.   Both guitars highlight our refined skills in inlay, binding, finish work, tonal achievement and set-up, creating two very beautiful Dreadnoughts.
Dreadnoughts that are made with over 270 inches of sparkling abalone are very special guitars indeed.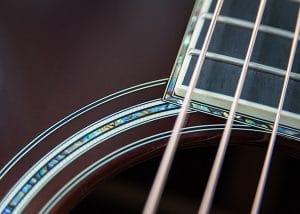 The notation 45 style goes all the way back to 1902 appearing on a 00-42 custom Martin referred to as a Style 45.  This trim package offered on 'Golden Era' Martin guitars manufactured from 1933- 1942 were the first 'luxury guitars" made and are some of the most coveted and highly valued guitars out there in the 'vintage' marketplace.
45 style is an abalone trim package including; top, sides, back, extension of the fretboard producing one of the fanciest guitars
we make here at Thompson Guitars.
Not only is the trim package all abalone, it includes a 3 ring abalone rosette, 45 Style abalone 'snowflake' fretboard markers and abalone around the tail wedge and at either side of the heel.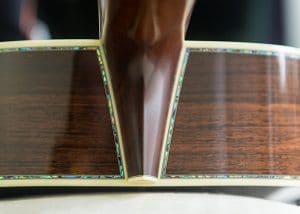 The workmanship and playability of this guitar is highlighted in the following video with Paul Heumiller and Allen Shadd playing this beautiful instrument.
We wanted to make Preston proud by honoring the traditions of the past in both the appointments featured and vintage tone achieved.  He always wanted to have the crew make a Thompson 45 from select Shipwreck Brazilian Rosewood with an exceptional Adirondack Spruce top and now, here it is, ready to be played!  We miss you Preston and well done to the crew for all the talent they command.
This guitar is part of our 'Timeless' Series sold through Dream Guitars and is a way for our team to build with revered tonewoods, mix up the appointments and create new inlays.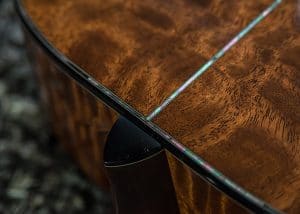 The Tree is a combination of all those assets and turned out beautifully with a rich and unique GeoDeco design on the headstock and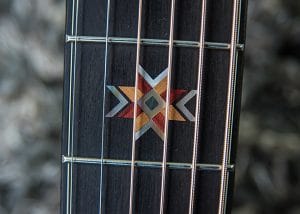 fretboard, including the bridge.  It is bound in black pearl with a black pearl backstrip and rosette tying it all together.  This will be for sale in the coming weeks along with another video from Paul with Allen playing several tunes to hear the quality of sound that 'The Tree' produces.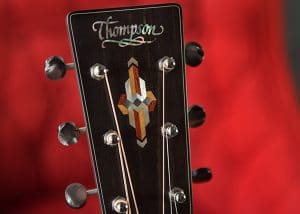 This special mahogany tree was felled in the mid 1960's in Honduras that was over a 100 feet high, 10 feet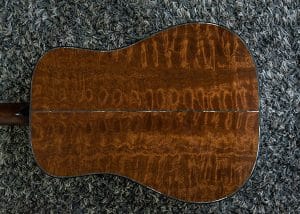 in diameter at it's base and approximately 500 years old.   The story is told over and over again in many articles and it's lore is famous.  When cut the figure of the wood was like nothing folks had seen, with it's rich deep color and three–dimensional appearance.
The age of the wood helps deliver a special tonal clarity and separation of the individual notes like no other mahogany tonewood out there.
---