After a successful month-long tour in the United Kingdom, Eric Bibb has returned to play in the United States and Canada this summer. Amongst his selection of stage guitars, Eric's custom Thompson 12 fret 000 guitar will accompany him throughout the tour.
Eric's career has spanned five decades, 36 albums, countless radio & television shows and non-stop touring has made Eric Bibb one of the leading bluesmen of his generation. A Progressive preservationist, a fiery singer with true soul, gospel and folk roots, enjoyable and accessible, his blues is honest and powerful. One critic wrote: "He has all the ingredients for stardom – handsome good looks, a voice as strong and soulful as they come, the guitar chops to hold his own against the best and he writes compelling, sensitive songs. His blues are clean, beautifully sung, soulful and upbeat". The weekly syndicated American program "House of Blues Radio Hour" host Elwood Blues (a.k.a. Dan Aykroyd) once declared to Eric: "You are what the blues in the new century should be about."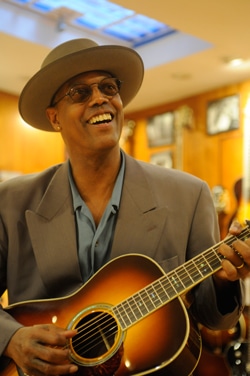 The first stop of his summer tour was at the Kate Wolf Festival in Black Oak Ranch, CA on June 25th to play along with an amazing weekend line up including Harry Belafonte, Neko Case, k.d. lang, The Wood Brothers, Laurie Lewis, Mollie O'Brien, Elephant Revival and many other talented musicians.
After California, Eric will head a little closer to our neck of the woods to play in Seattle on Aug 2nd at Dimitriou's Jazzy Alley for two nights with Corey Harris. Of course, we couldn't let Eric wander into the Pacific Northwest without making a trek to see him ourselves. We met Eric in Seattle for his show at Dimitriou's and captured a few songs. (You can watch the interview below!) We are excited to catch up with Eric before the show, record more of his incredible music and most importantly, receive feedback on his Thompson 12 fret 000 that he acquired in December 2015.
"It is wonderful to travel around the world and meet luthier's from Finland to Australia and encounter wonderful instruments. Having said that I can honestly say that Preston's guitars are the zenith for me. There is something about not only the sound, but the feel. This particular guitar just fits my hand in a way that is like a dream" – Eric Bibb
We are thrilled that he has chosen a Thompson to have on hand as he travels the world, sharing his blues music with audiences across the globe.
---