Adding new models to our current list of acoustic guitars not only challenges our creative process, but it also allows us to expand our range of models offered to guitarist worldwide. We are pleased to announce that four new guitar models will be added to our lineup: Classical Hybrid, Slope Shoulder Dreadnought, 0 and 0000 models.
Classical Hybrid Guitar
The Classical Hybrid came about after a special request from one of our best clients. He was looking for a crossover instrument with some of the influence from his favorite singer/songwriter Willie Nelson's trusted guitar. This model was designed by Preston for musicians seeking a guitar with the brilliance and balance of the finest classical guitars; it also offers several features that contribute to exceptional playability. A narrower neck profile provides more comfort and quick transitions and a scale length that will be familiar to steel string players. The Classical Hybrid provides an outlet for players that reach into different genres allowing them to create music from several points of reference. [MORE PHOTOS]




Slope Shoulder Dreadnought
The Slope Shoulder Dreadnought was a must to add to our list of offerings – it has the powerful presence just like it's cousin the Dreadnought delivering an exceptionally balanced tone for all types of players as well as the traditional elegance of the advanced jumbo vintage style models. It also adds an alternative softer look preferred by some guitarists. [MORE PHOTOS]




0 model
The 3rd model, which was completed just last week, will be a 12 fret 0 model. Today most players tend to think of a 0 sized instrument as small but for decades it was more or less an average-sized instrument. This model has historically been known as a concert guitar. The difference between the 0 and the Size 2 Parlor is about 1" in the upper bout and 1.5" in the lower bout so you'd expect the 0 has a bigger sound but both surprise almost all players who may not be familiar with smaller guitars with their tone, volume and sustain. The 0 models possess a remarkable tone, which is surpassed only by their beautiful balance. [MORE PHOTOS]




Coming Soon!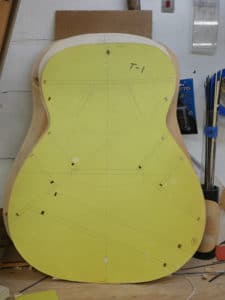 Our fourth new model, the 0000 guitar was also added to the lineup by special request. Not only was this unique model worthy of the time and effort to craft for the requesting client, but also for future Thompson players with its comfortable design of a tighter waist and narrower body depth. The 0000, or as it was originally called here at Thompson Guitars the T-1, was the first guitar body shape drawn and built by Preston while he attended the School of Guitar Research and Design. Many of the very first Thompson Guitars were 0000's and are known for their impressive volume with excellent balance. Look for the 0000 in early 2017!
In addition to these four highly anticipated new acoustic guitar models, Preston and Simon (our in-house artist) are also working on two entirely unique Masterpiece Guitars. One will be outfitted with hand-carved designs, custom inlays and other special appointments, handcrafted with a beautiful set of Shipwreck Brazilian. The second Masterpiece Guitar will feature a handpainted, intricate design on quilted maple. Stay tuned for more details, specs and concept art!
---