We use many sets of wood that have been submerged under water including our Shipwreck Brazilian rosewood sets, Sinker Mahogany sets from Belize and also some top options such as Sitka spruce that were salvaged from Alaska "Floats" (further information on this later in the post).
This blog post addresses the unique history and qualities of the salvaged Sitka spruce sets that we offer. Much of the information was collected by Alan Ollivant from North American Woods who also supplied the photos in this post.   We thank Alan for assisting our search for woods that have that sound quality we are looking for.  This is a great story of the history and of culture that one might not associate with guitar building.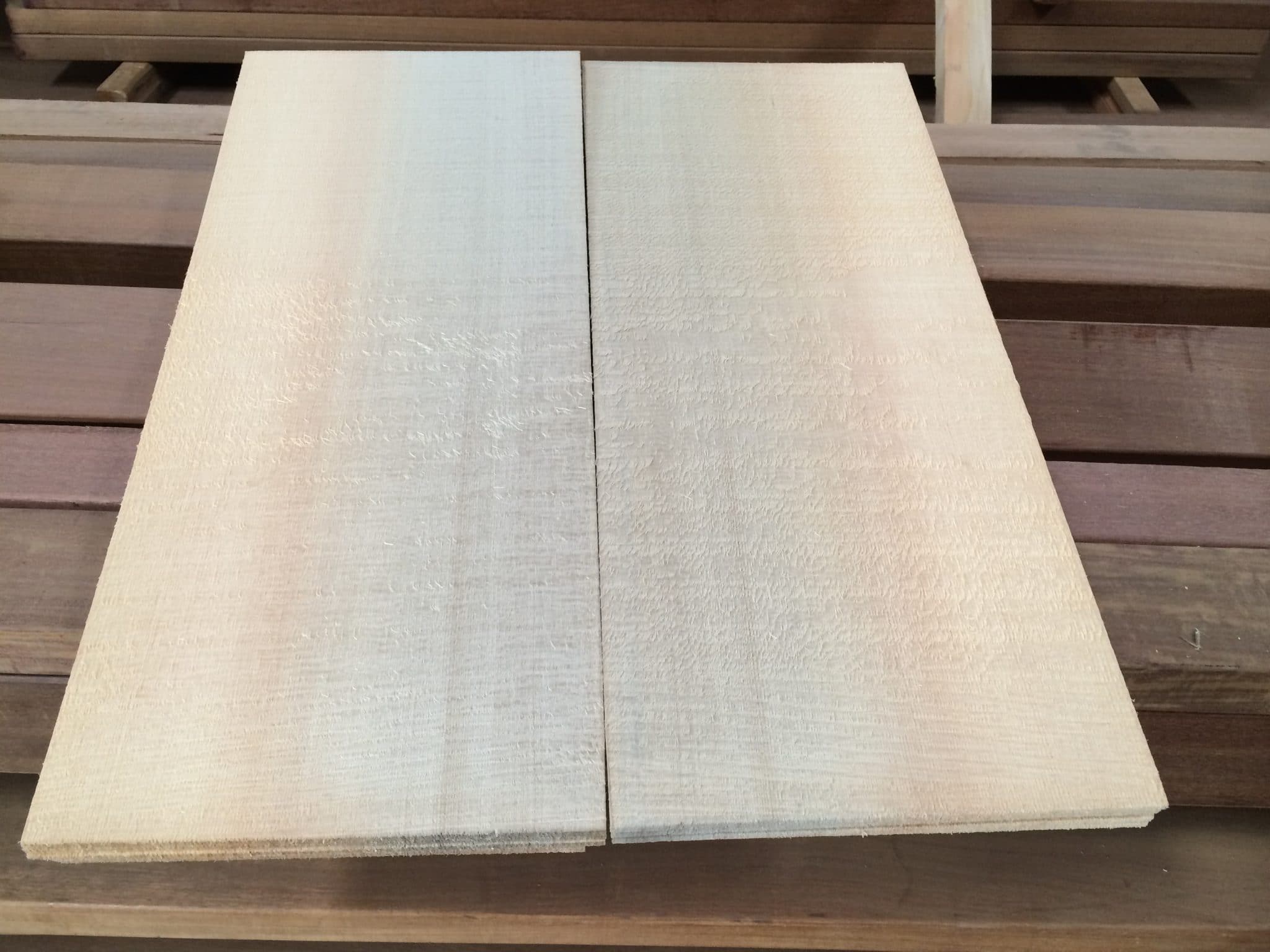 THE WOOD:
One of the unique characteristics of this Sitka spruce that was submerged in water for a long period of time is that the very soft tissue in the cells literally is dissolved, so when it is dried out, the cells are far more "open" with very little cottony soft tissue to be seen.   This achieves 2 advantages for guitar building..
1). the wood becomes lighter, in that there is less wood.
2). The cell pores are much larger and have very little "cotton" to muffle the sound.  This creates a very lively sound for brace wood and guitar and ukulele soundboards.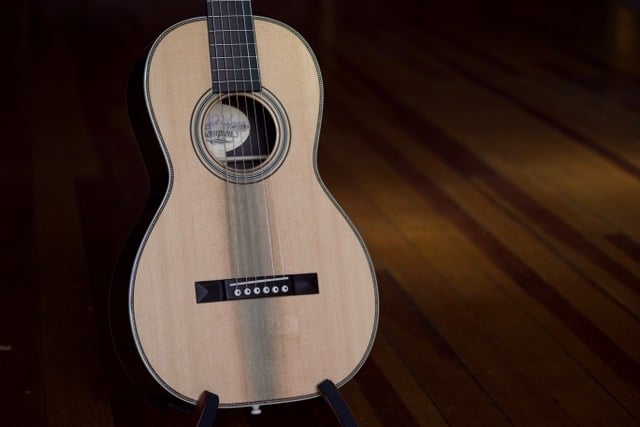 The look of these Sitka tops range from clear straight grain to some exhibiting a unique blueish/grey shade to it with wider and narrower strips of this coloring.
THE HISTORY:
The SE Alaskan logging industry in the early to mid-20th Century was tough business.  Logging companies would bid Timber contracts in the Alexander Achipelago of the Tongass National Forest.  These hardscrabble businesses would almost always have at least 2 large floating platforms made from buoyant Sitka Spruce logs lashed together with cables and giant spikes.
The "Floats" were made with 6 or more very large Sitka Spruce logs, usually each 90 feet long or so.  All the "butt" ends were lashed together at one end, and the smaller "tops" on the other, making it able to be beached on a smooth gravel spot on a high tide and allow the tide to recede so that a Cat or other piece of equipment could crawl off the small end and begin the process of road building to begin logging.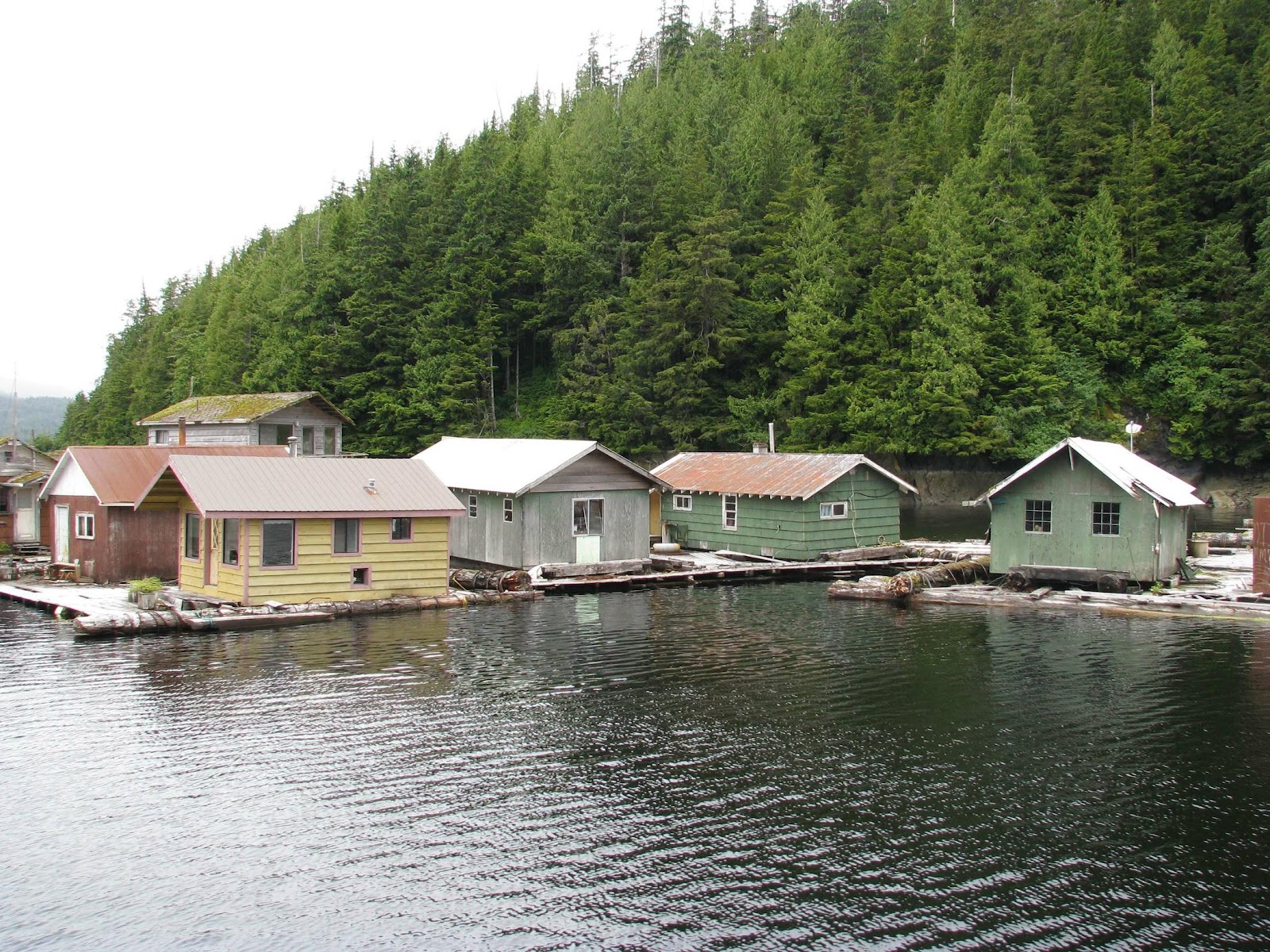 The base of operations were these "floats" as the loggers made their living falling, bucking and hauling Spruce, Cedar and Hemlock trees to the water to tow to local sawmills.  There was always a "Bunkhouse Float" or "Cookshack" as it was nicknamed, which consisted of a spartan living space, wood or oil-fired heat/cook stove, and bunks for the loggers to sleep.  When the loggers would return from their day of hard work, they would eat hearty meals in cramped, stuffy quarters..  They would hang their heavy shirts, pants and long-underwear to "dry out over night" to start the process all over again around 4 AM.
The Second "Float" was usually just a flat surface with some basic deck built on top.  This float was a small barge that was used for log trucks, skidders, etc. in the same fashion.  Typically, the Bunkhouse and utility floats  were then tied together,  and anchored in a secure cove until that logging operation was complete, then…  on to the next Island.
The Sitka tops we have available for guitar building came from a "Bunkhouse" Float found near Petersburg, Alaska. The original trees for the structure came from Shoal Cove, near Ketchikan, Alaska in the 1960's.  It had 6 large logs lashed together, all between 54 and 42 inches on the big end, and about 90 feet long.  The bottom side of the floating logs had been seriously eaten away by marine boring worms called "Teredos".
The photo above is of a similar floats with houses on them.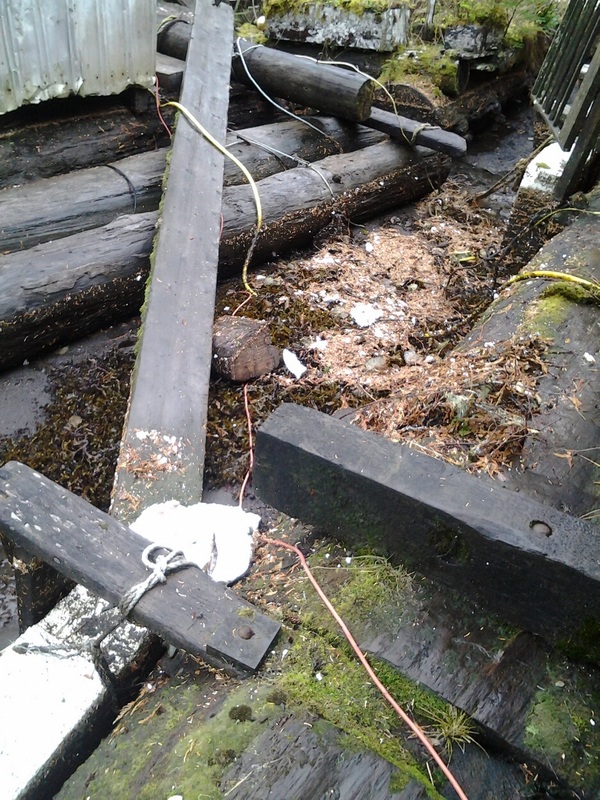 The one that Alan and his crew dismantled was in pretty sorry shape.  They harvested the wood in about 2012 after it had been out of the water for about 50 years.   To this day, the wood retains evidences of marine borers, blue/black iron staining from the cables and fasteners, and in some cases, nail and/or bolt holes, since it is authentic Reclaimed wood from a commercial / industrial structure.
This storm-damage photo shows a very large log underneath the right side of the photo.   This is about what the log sizes were that produced our guitar sets.
Thanks again Alan for all the information and writing it up for this blog post!
---