WINFIELD – WALNUT VALLEY FESTIVAL
The founding idea of the Walnut Valley Festival was to produce the Walnut Valley National Guitar Flat-Picking Competition in 1972.  It moved from a 2-day event to the 5-day event that is held today and is called 'Winfield' by long time festival goers.  The competitions are not only the origin of the festival, but are a big part of the 5 day event as they expanded the competitions from flat-picking to finger style guitar, banjo, old time fiddle, mandolin, dulcimer and autoharp.  There have been players that have won multiple times like Mark O'Connor both in flat-picking and fiddle.  Other well known names that have won are Chris Thile for mandolin, Steve Kaufman for flat-picking (3 times) and Alison Krauss for fiddle the same year, 1984, that Preston initially was invited to provide a prize guitar for the Finger-Style competition.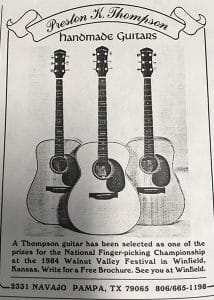 This festival isn't just about bluegrass, it includes folk, old time country, Americana, blues, swing and more.  Some of the performers that have graced the stage over the years included Peter Rowan and Charles Sawtelle from Hot Rize.  Winfield is where Preston met these legendary players, sold his guitars, and made friends with luthiers like Richard Hoover and long time Martin employee Larry Barnwell. Those were very special days for Preston and helped form his view on what guitars to build and felt the welcoming nature of the bluegrass community.
W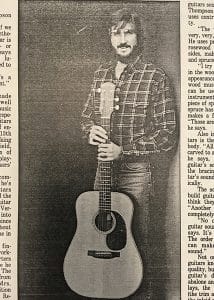 e wanted to say thanks to Walnut Valley Festival for making Preston so proud his guitar was selected once again in 2019 as a prize guitar for the Flat-Picking competition. Here is an AD and photo of Preston from 1984 when his guitar was first selected.  I found out recently that for some reason Preston was unable to get a guitar to the festival in 1984 and another guitar was used in his place.  He was invited back and provided a guitar in 1985 and 1986 for the Finger-Style competition and in 1989 for the Flat-Picking competition.
He talked to us about how this event in his life was so important and life changing in the 80's for his reputation as a builder. When we got the call from Karen about being invited back Preston was so thankful this event had come full circle.  He was very proud that his team of skilled luthiers could provide a Thompson and to be honored again before he past away in April.  We look forward to being there to sell a few guitars, meet exceptional players, other guitar builders and people that love to pick!  We sure do miss Preston and wished he could have come to Winfield too.  Here is a link to some of the information on the contest and guitars offered. https://www.wvfest.com/luthiers-and-prizes/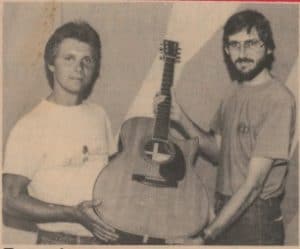 We recently wrote back and forth with Bill Mize who selected Preston's guitar in 1985 in the Finger-Style Competition.   Here they are with Preston presenting Bill the prize Thompson and a short note from Bill Mize….
Walnut Valley Festival, Winfield,Kansas 1985
'I was so sure I didn't make the first round cut, I grabbed my old faithful Japanese copy of a Martin and headed back to camp with my tail between my legs. I was feeling under the weather and hungry so I stopped to get a BBQ sandwich on the way back. While eating away I heard the old familiar sound of the stage announcer's voice calling out "number 13 this is your final call." At that moment I made an important realization that I was number 13. So I threw down my sandwich, grabbed my guitar, ran to the stage and played the final round with bbq sauce on my hands. Next thing I knew I was being presented a beautiful guitar built by Preston Thompson. It was the first really great guitar I ever owned. That was a definitive day for me. Thank you Preston.'
---