TRADITIONAL
Decorative inlay for furniture and musical instruments is an art form that goes back centuries. Inlay materials that have been chosen include wood for color and contrast, precious metals, stones and a large variety of pearl, abalone and other shell species.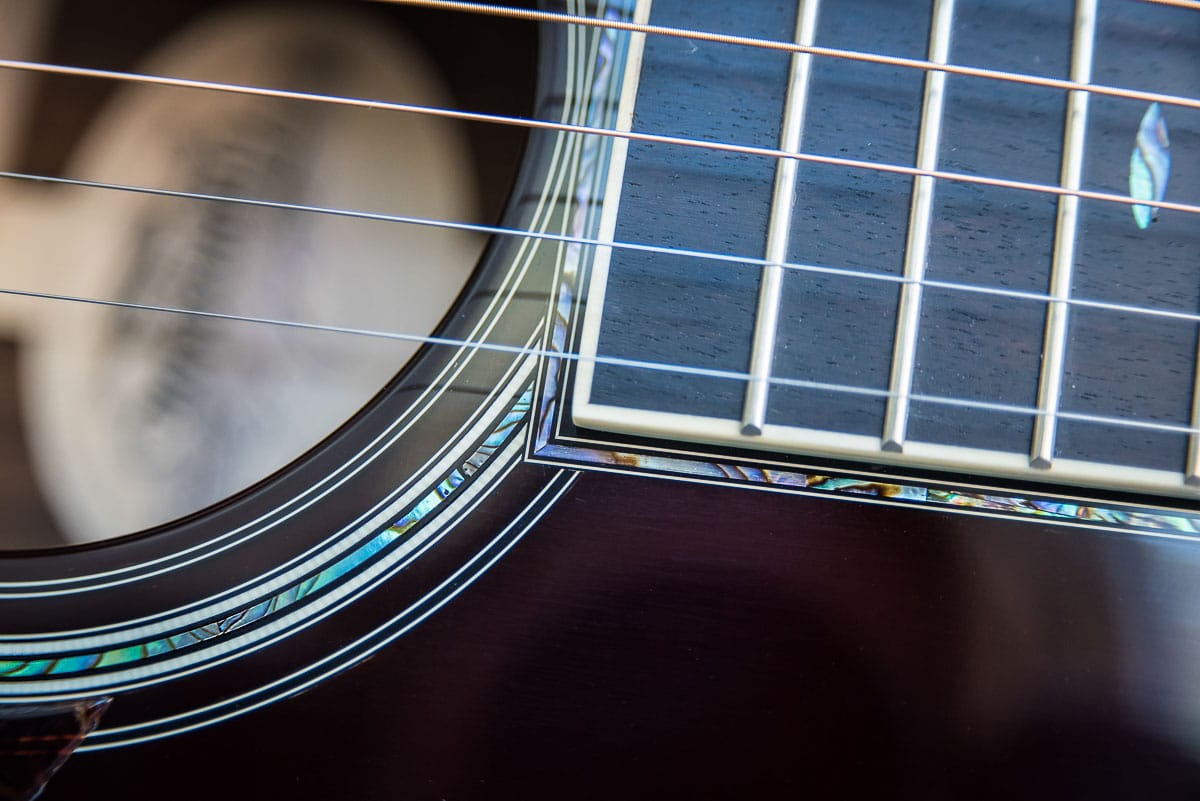 Some inlay designs have been recognized as so beautiful and are so well loved that they have become standards to the art of lutherie. These designs may go back decades or even more then 100 years.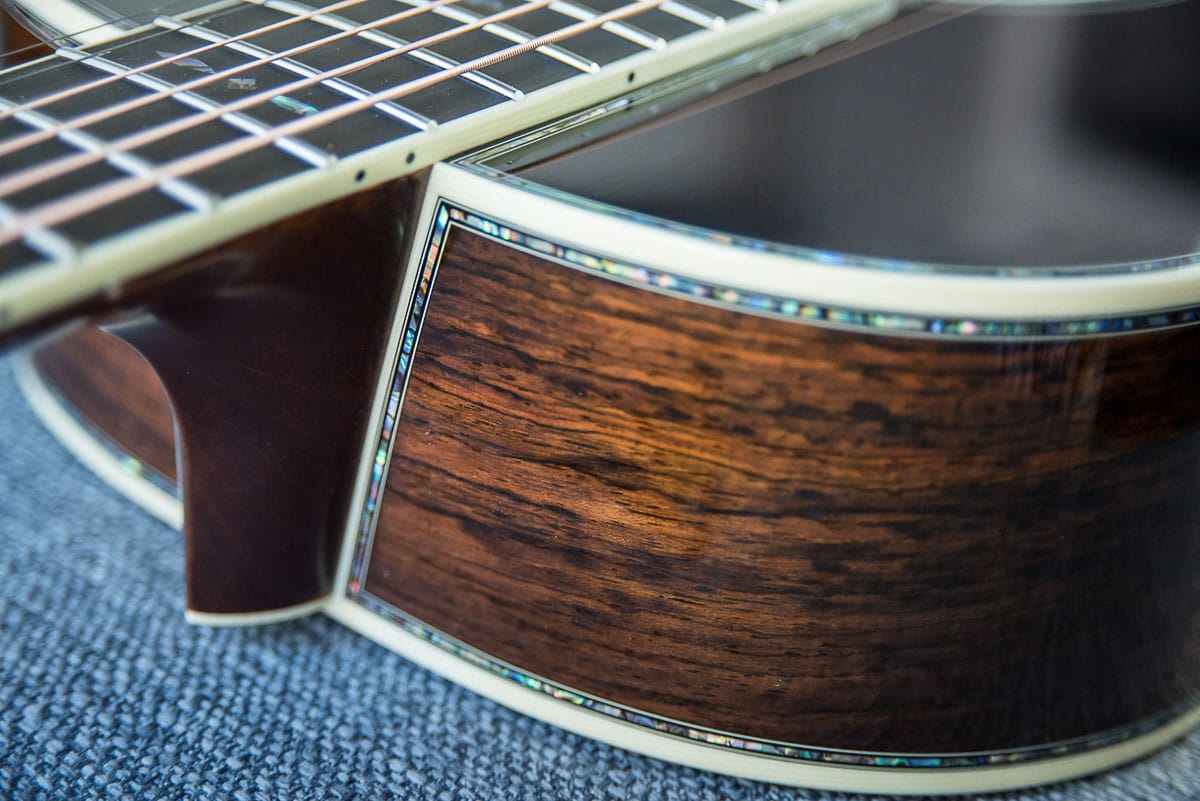 At Thompson Guitars we take pride that we craft guitars, such as our 45 Style Models, that pay tribute to those inlay designs rooted and refined through time. We spare no time or expense in the perfection of the details required to produce these historically honored, masterpieces.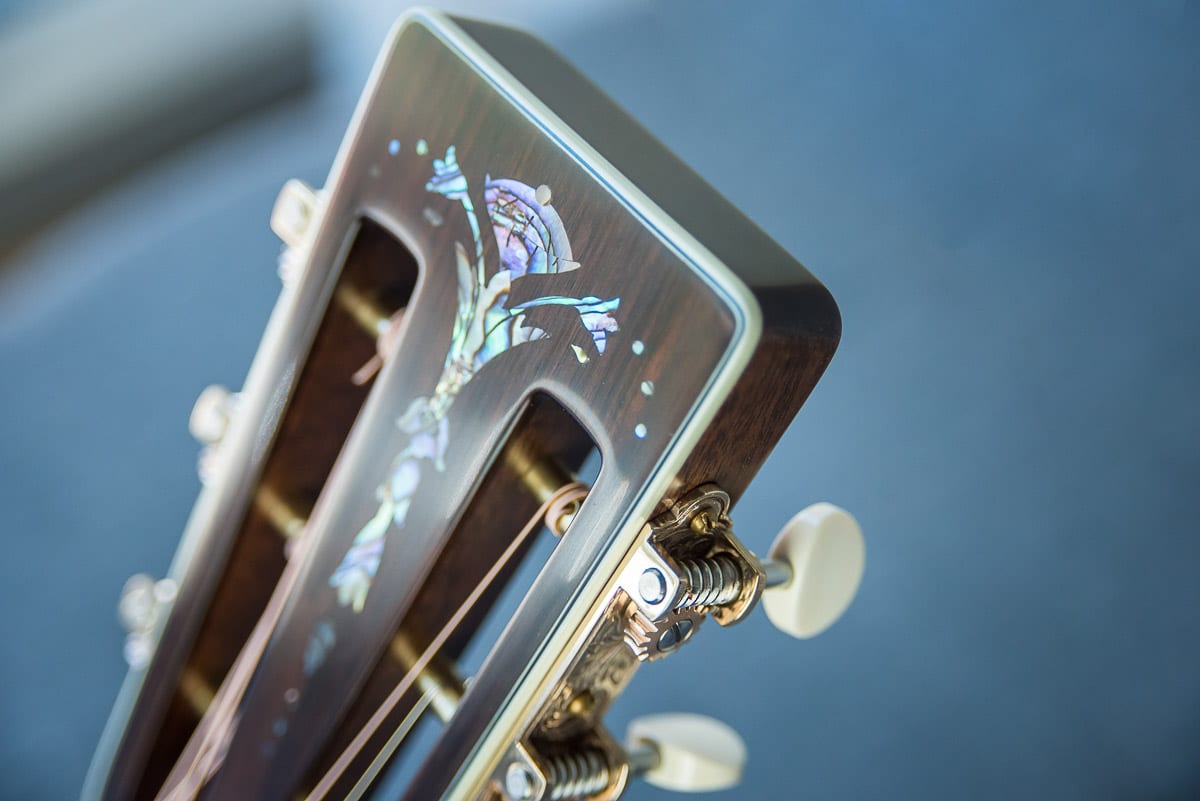 Not only do we want to carry on the tradition with certain inlay styles, but keep expanding our portfolio of customized inlay for our customers as we continue into the future.  Even a small inlay can bring a personal touch to one of our guitars.  Inlay, simple and understated or elaborate add to the beauty and individuality of fine guitars.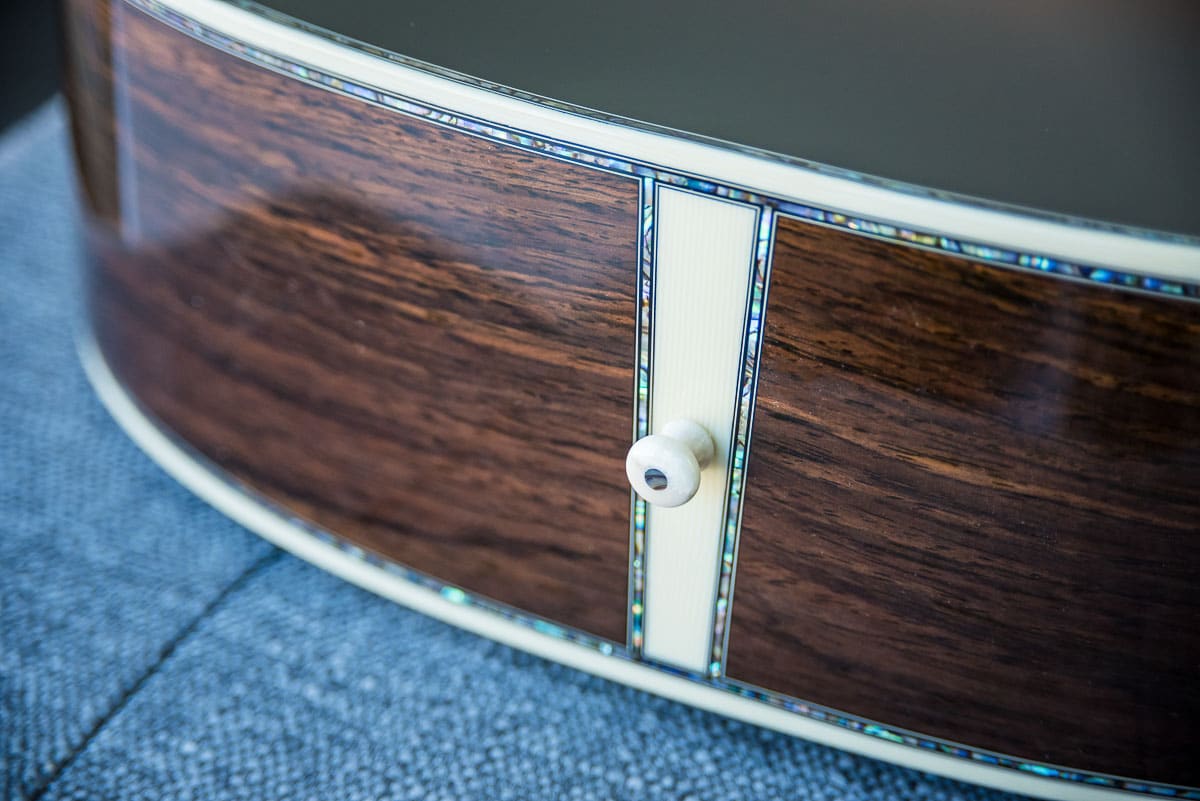 To be able to design and craft custom inlays that come direct from our customers dreams is something that keeps our work interesting and challenging.  These inlay's may be a reflection of the owner"s personality or an image that just means something special. Mythical, whimsical, serious, simple or complex, these works of art add character and individuality to any instrument.
CUSTOMIZED
Our crew is made of a handful of skilled craftsmen with many talents to their names including artists and musicians. Simon Haycraft is a trained artist and combines his skill in guitar making with his artistic eye to draw new inlay for Thompson per the customers request or Preston's interest in expanding our choices for inlay on headstocks and fingerboards.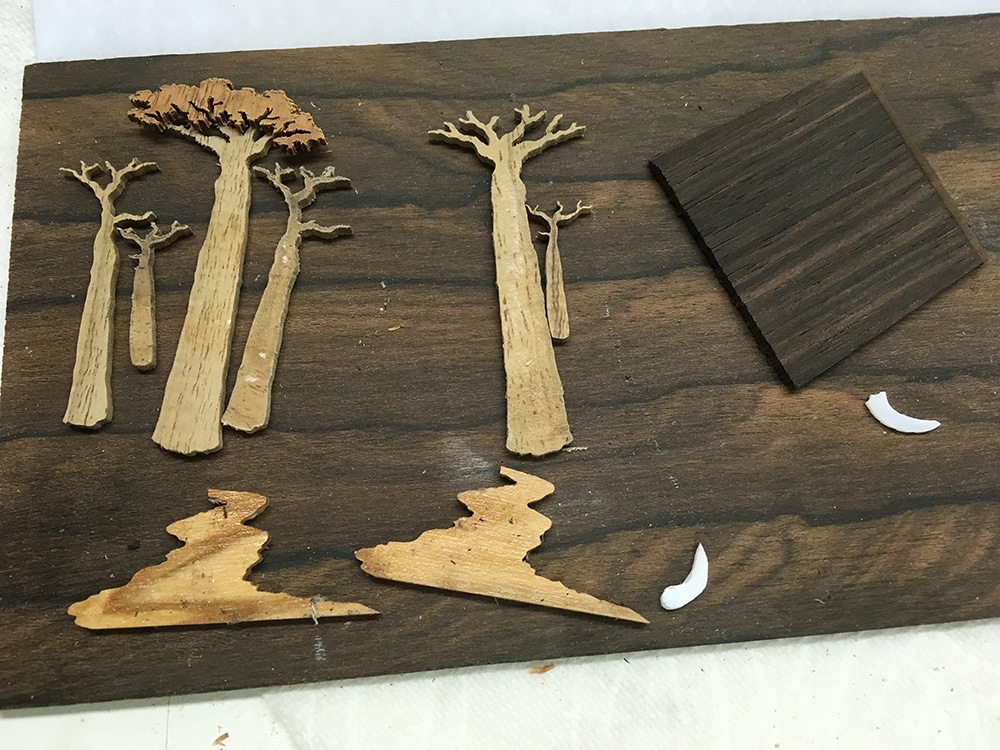 A recent 000-14 Fret Custom Cutaway with a slotted headstock and Ziricote was made for a client that is a wildlife photographer.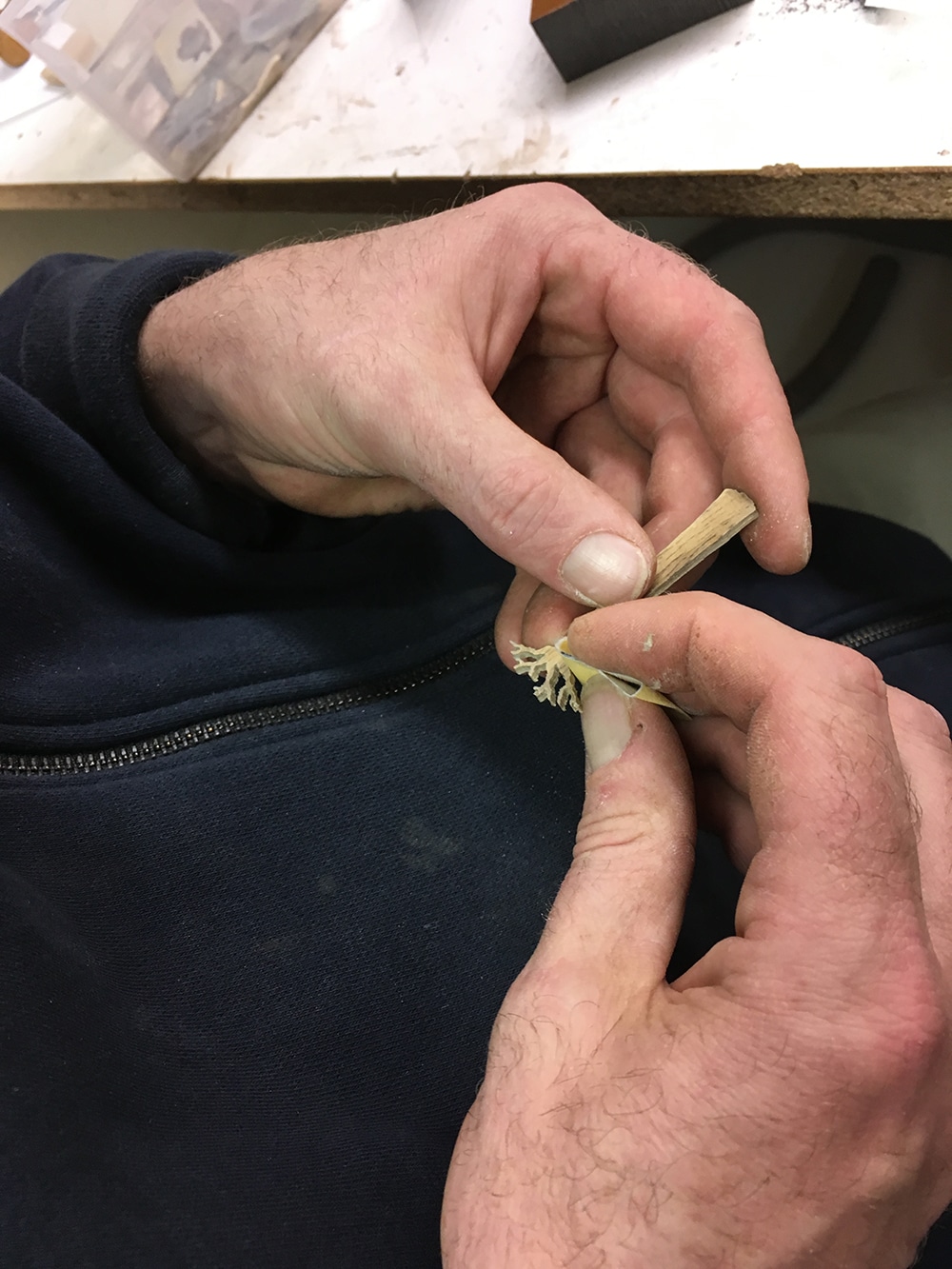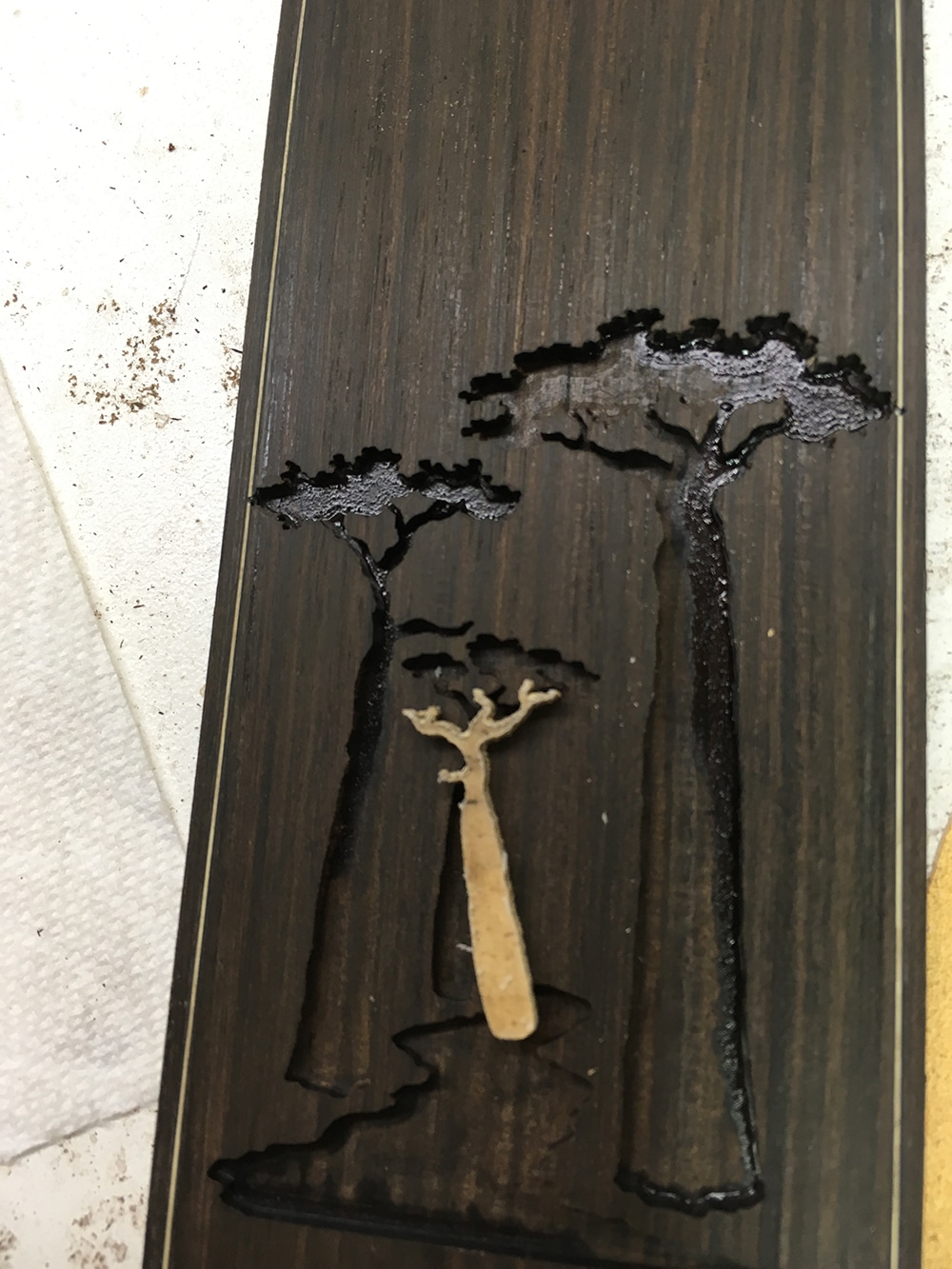 Once the customer decided on the images he wanted, the inlay design work became a collaborative effort to fine tune the idea on paper, which materials would be used and placement on the guitar.  This particular guitar features two very special designs on the headstock and fingerboard.
The Baobab trees were cut out of Olive, Myrtle and Koa woods. Each delicately sanded to fit like pieces of a puzzle into the fretboard.
The elephant drawing was cut out of hand picked figured Black Mother of Pearl and then engraved to create the highlights for the animal.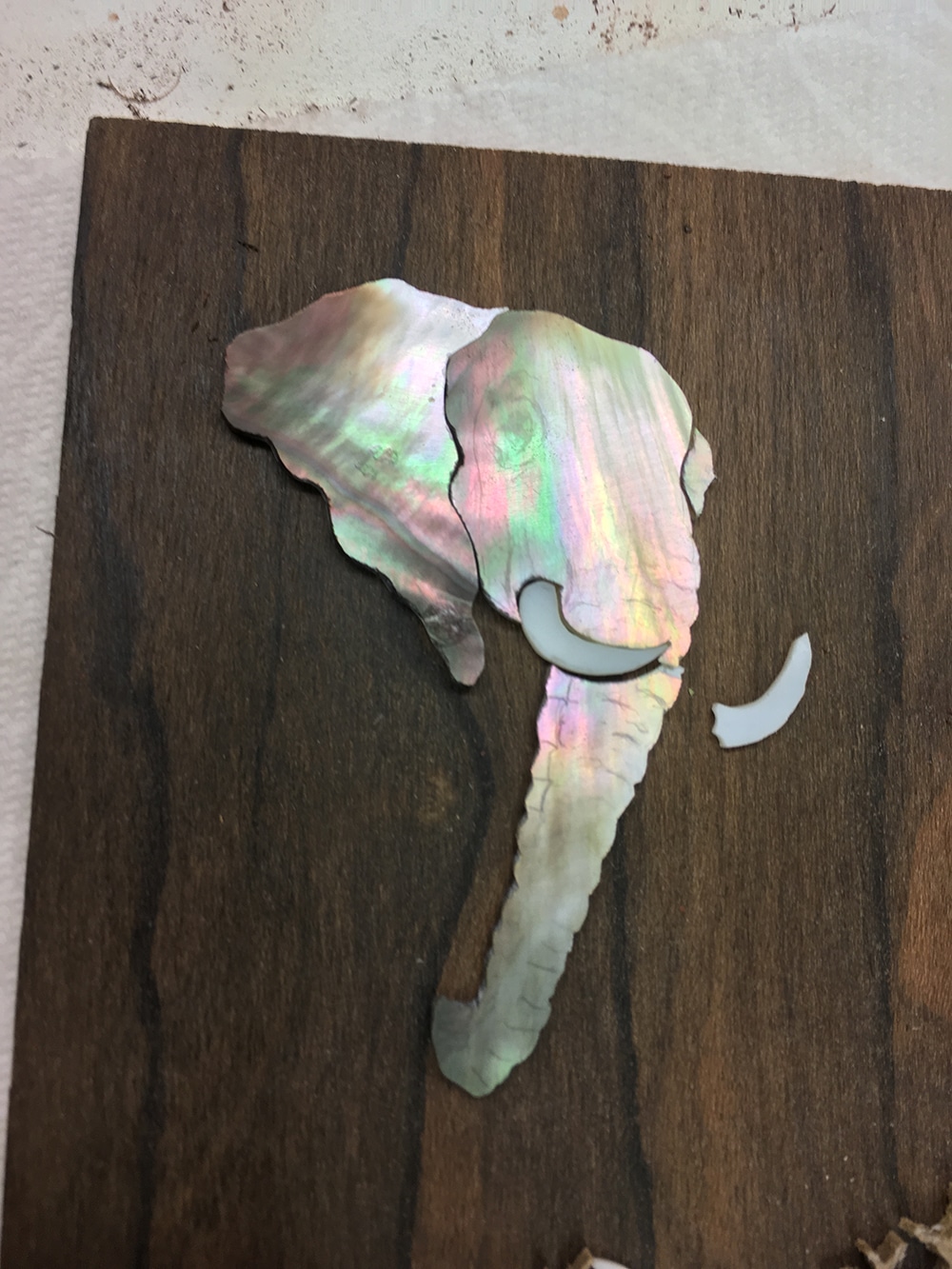 NEW DESIGNS
Like previously mentioned, Preston is interested in creating new headstock inlays to be available to customize your Thompson Guitar.  The process to design these types of inlays takes a variety of steps from the pencil drawing, to using pen and ink then adding color to finally picking the different abalone shades for the inlay.
We have several new torches for both slotted and solid headstocks with a page of high quality photos coming soon.  Take a look at several snapshots below of the process and final inlay on Molly Tuttle's Dreadnought.
MASTERPIECE SERIES
We have many other projects in the works for customers as well as our 1st guitar in our "Masterpiece series" that is near completion.  Here is a teaser of the back inlay with more coming soon on this beautiful work of art made from Shipwreck Brazilian Rosewood.
---