In their January 2017 edition, the folks at Vintage Guitar Magazine have published a thorough and glowing review of our 12-Fret 000 model*. For their consideration, we sent over our standard 12-Fret 000 with 25.4″ scale, East Indian Rosewood body, Adirondack Spruce top, slotted headstock with ebony overlay, three-ring rosette and herringbone top trim, nitro finish, ziz-zag back strip, hand-graduated top, advanced X-scalloped prewar-style bracing, Waverly nickel tuners, ebony fretboard and bridge, and a bone nut and saddle.
"The 000's tone and harmonic balance were outstanding, especially for such a new instrument." – Steven Stone, Vintage Guitar Magazine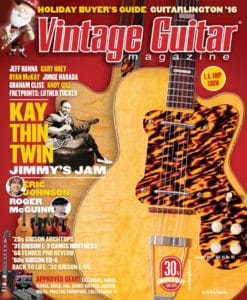 "Many small-bodied guitars have small sound with limited bass response. That tendency certainly is not true of the Thompson 000. Not only does this guitar have bass – "like a cannon shot" in Charles Sawtelle's words – but substantial volume, as well. In a guitar duet with a dreadnaught, the 000 had no trouble making itself heard. […] finding a vintage instrument in the right condition with the right feel and sound can sometimes be difficult. Preston Thompson's new 12 Fret 000 gives guitarists who pine for a vintage 000 the option of owning a guitar with exactly the specifications they want. " -VG
*This guitar is available for immediate sale from Telluride Music Company in Telluride, Colorado.

Check out more photos of a similar 12-Fret 000
---